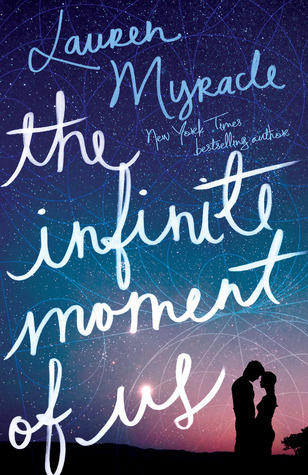 You can read this review instead of reading this one too, because I'm sure she was able to express her opinion more clearly.
***
Title: The Infinite Moment of Us
Author: Lauren Myracle
Publisher: Amulet Books
ISBN: 9781419707933
Pages: 316
Rating: 1/5
Synopsis: "For as long as she can remember, Wren Gray's goal has been to please her parents. But as high school graduation nears, so does an uncomfortable realization: Pleasing her parents once overlapped with pleasing herself, but now… not so much. Wren needs to honor her own desires, but how can she if she doesn't even know what they are?
Charlie Parker, on the other hand, is painfully aware of his heart's desire. A gentle boy with a troubled past, Charlie has loved Wren since the day he first saw her. But a girl like Wren would never fall for a guy like Charlie—at least not the sort of guy Charlie believes himself to be.
And yet certain things are written in the stars. And in the summer after high school, Wren and Charlie's souls will collide. But souls are complicated, as are the bodies that house them…"
The story of an innocent, virgin girl and a horny, ridiculous boy.
I have never been this disturbed while reading a book and I think this is my first 1-star review ever. And I normally don't write reviews of dnf books but I just need to w r i t e s o m e t h i n g.
The book started as a very cute, light novel about friendships, following your dreams, love and growing up. I loved how Charlie and Wren had itsy-bitsy crushes on each other and were too embarrassed to talk to each other, it was so so cute and I was hoping that it would continue that way.
Then they were properly introduced, okay, that's cool.
But then their relationship started moving fast, so fast, and I mean so fast, by the end of their first month, Wren was talking about "being in love" and "not being able to leave Charlie". But, yanno, this was okay too, it's not the first time I'm seeing this kind of a relationship.
What disturbed me the most was how sex-crazed Charlie was and how… quiet Wren was. The night of the party, after seeing Wren, Charlie said that "her curves made him hard". Okay, strike one.
Then they went hiking and Tessa moaned while talking about the ocean. That made Charlie's cock stir. Strike two.
Finally, they were making out and Tessa did something that I can't quite remember right now, and Charlie got hard. Strike three. Woops, Charlie's out.
I'm not normally this sensitive when it comes to sex, it doesn't make me feel ill or anything but in this book, every chapter was somehow related to sex that I just wanted to rip my head off.
And to top it all, Wren was sooooooooo clueless about everything. She was passive, she didn't know what to do, she was always doubting herself.
No.
Just no.